What is TheFlex?
TheFlex is an industry browser that was specially developed for the needs of applications in production and logistics. More and more applications in the industrial environment are being developed as web apps or Fiori apps that have to be called up in a browser. Although there are a lot of well-known browsers, such as Chrome or Firefox, that can be used free of charge, these are only tailored to private users.
Conventional browsers are designed to quickly navigate back and forth between many different websites, to customize the settings and to be able to quickly copy or transfer data to other apps. However, all of these are properties that are not desired in the industrial environment.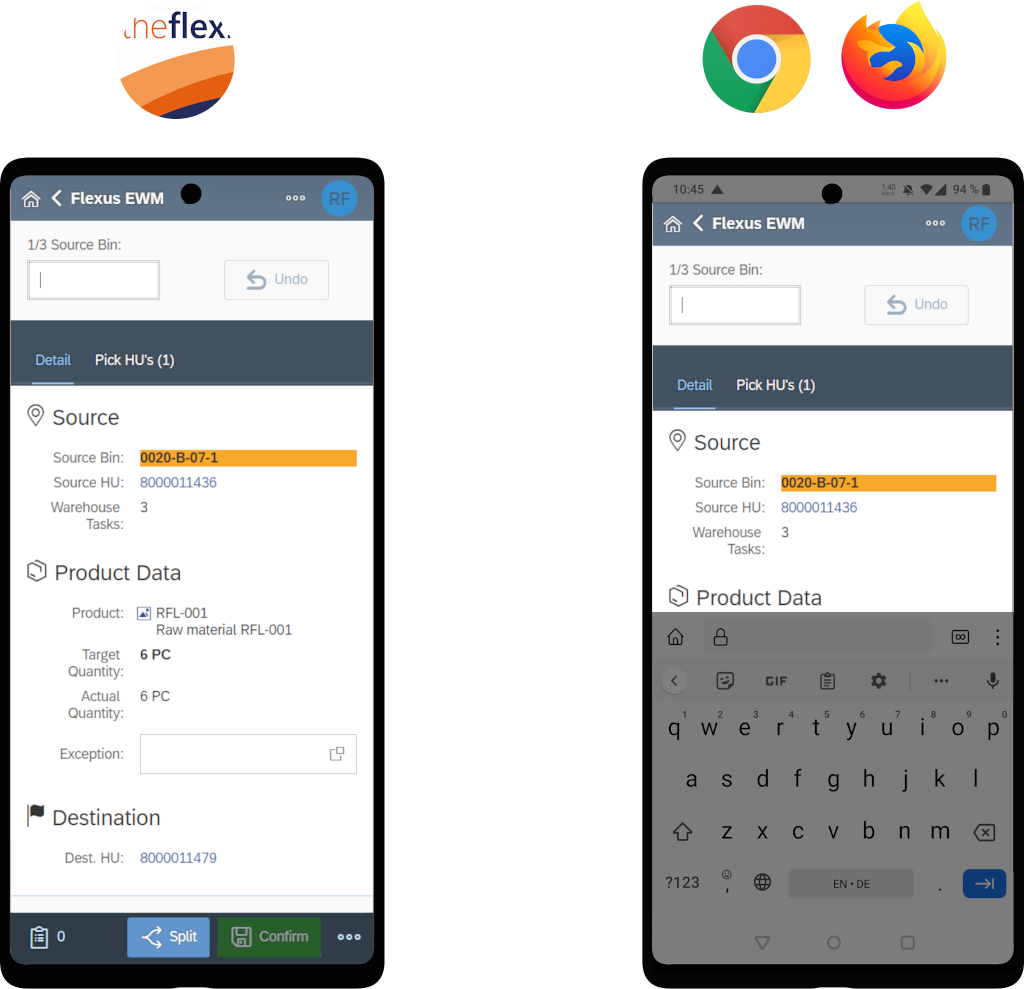 Fixed websites​
In most cases, special websites or Fiori apps are developed that cover one or more process steps in the company. Examples of this are apps for processing incoming goods, the packing station or picking. The user does not have to and must not be able to navigate to other pages. On the one hand, so that the control of the visited websites is retained, but on the other hand, so that you don't "accidentally" navigate back or away from the productive website.
Connection of industrial hardware​
Another big advantage of TheFlex is the connection of industrial hardware. A tablet or mobile phone is not sufficient for many processes, since barcodes have to be scanned more efficiently or labels have to be printed out. This industrial browser supports the most important devices, including the NIMMSTA and ProGlove backhand scanners. Thus, any websites or Fiori apps can be connected to specialized hardware devices to speed up the processes.
Central management of settings​
Many details can be configured in the TheFlex settings:
Hide status or navigation bars
Defined web pages to be opened on startup
Error logging
And many more settings...
These settings can be centrally maintained, tested and distributed to any number of devices via mobile device management systems. To ensure that these settings are not changed by the user, a password can also be defined, which is required locally to make changes.
The unique selling points of TheFlex​
Of course, TheFlex offers a variety of features and advantages, but the following points can be highlighted as the most important unique selling points:
Connection of current industrial hardware​
Thanks to constant further developments and contacts to the relevant manufacturers, we are also able to connect the latest devices to TheFlex. The backhand scanners from ProGlove and NIMMSTA, which have experienced rapid further development in recent years and months, deserve special mention. Also in the future, TheFlex will always remain compatible with the most important and latest industrial devices.
Security​
With a special security edition, TheFlex is also available for companies or application scenarios as a hardened and tested secure version. This ensures that neither third-party apps, viruses nor unauthorized users can extract or manipulate data from your websites or Fiori apps.
SAP focus​
With a focus on SAP applications, be it Fiori or ITS-Mobile, TheFlex offers the possibility of using a browser that is tailored to the problems and needs of SAP users on the one hand, but also supporting a SAP partner in connection challenges to get to the SAP system. In addition to the knowledge built up from many successful SAP projects with TheFlex, useful SAP-specific functions are implemented.
Support​
We don't just offer a technical product, but a package of TheFlex, support and product care. If desired, prioritized support is available, including support for problems with setup and configuration. We are happy to coordinate the constant further development with our customers, which means that we regularly collect and plan feedback on problems as well as desired features.